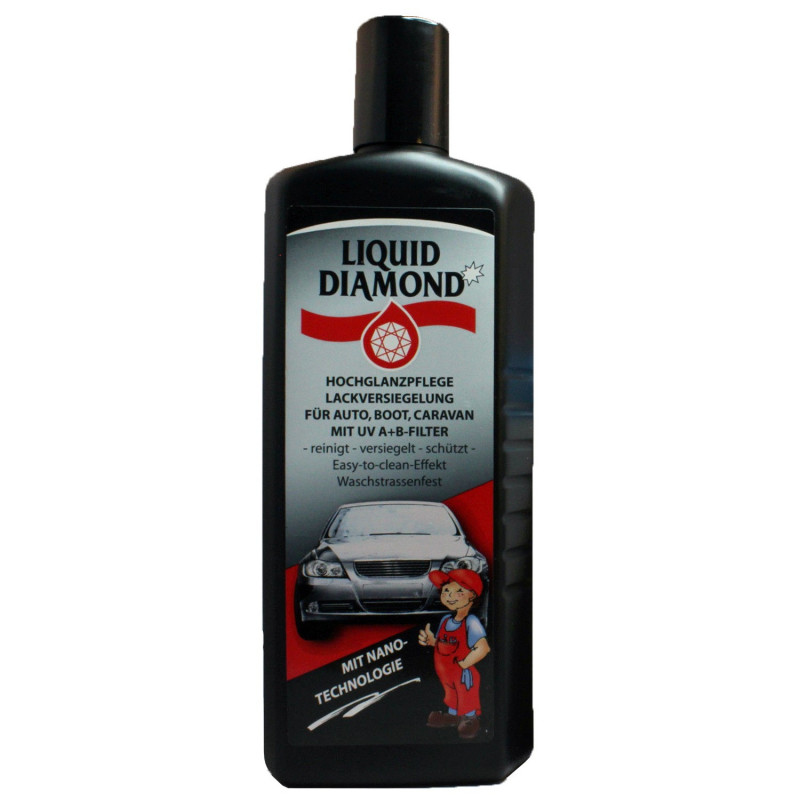  
Liquid Diamond Hochglanzpflege und Versiegelung (Haushalt und Kfz)
Tax included
Lieferzeit: 1-2 Werktage
Liquid Diamond high gloss paint and sealer is a glossy - cleaning - and care emulsion based on nanotechnology with acrylic. Glossy care, Nano paint sealant for car, boat, caravan with UV A + B Filter
30 days money-back guarantie*

shipping usually takes 3 to 7 days

fast and detailed support
Liquid Diamond high gloss paint and sealer (500ml)
is a glossy - cleaning - and care emulsion based on nanotechnology with acrylic.
Glossy care, Nano paint sealant for car, boat, caravan with UV A + B Filter
cleans
seals
protects
Easy-to-clean
endures carwash
The water rolls easily off by lotus blossom effect. Dirt is made by durable coating is not firmly on the surface.
Easy to use:
Simply the Liquid Diamond fluid Apply to washed and clean vehicle, wet or dry with a cotton cloth thinly and evenly, until a visible film has formed then with a cotton cloth simple dusting.
1000 times tried and trusted in the household
For all paints (metallic, acrylic, synthetic, and pearl effect paints)
smooth plastics
GFK
Polyester
Rims
Chrome
Tiling
Marble
Glass
Plastic window
Nirost
Ceran - hobs.
Guarantee:
Completely harmless for paint and chrome.
Freshens old on matt and weathered paint.
Sealed new coatings durable.
With regular use shampoo - and fixed carwash.
Syntethic concentrate stored indefinitely!
RRP € 29.50
Data sheet
filling capacity

base price

base price (discounted)