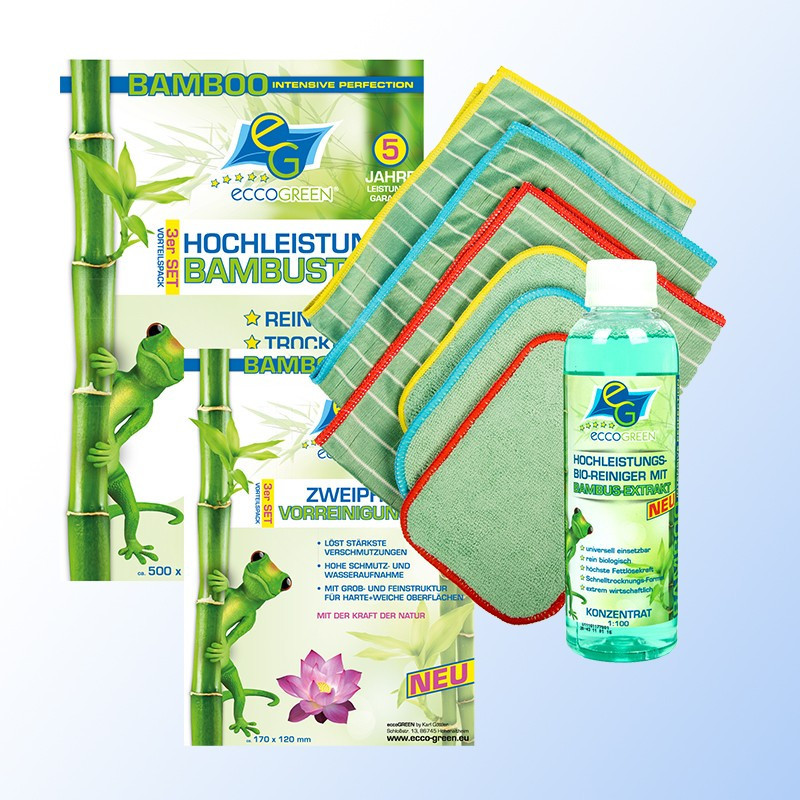  
BAMBOO INTENSIVE PERFECTION Set ⭐️2016⭐️
Tax included
Lieferzeit: 1-2 Werktage
New and fast! Our bamboo cloth Set.
30 days money-back guarantie*
shipping usually takes 3 to 7 days
fast and detailed support
BAMBOO INTENSIVE PERFECTION
Skin Sensitive High Performance Bamboo-cloth with 30% real bamboo fiber
FOR ALL SURFACES
---
NOVELTY! We lift the bamboo to the next level! Special high-quality fiber combination with 30% bamboo fiber! Developed in the United States with extremely high dirt and water absorption rate - always a streak-free cleaning result with polishing and roll-off effect.
absolutely skin sensitive
extremely high dirt and water absorption
dries and polishes lint- and streak-free
anti-bacterial thanks to bamboo fibers
Applications: Windows, doors, mirrors, tables, fixtures, automobile, glasses, furniture, full kitchen (including high-gloss) and electronics (including LCD/LED/TFT/etc.). Great for: glass, ceramics, tiles, plastic, chrome, stainless steel and paint.
This Set includes:
3 High Performance Bamboo cloths
3 double-sided Bamboo cloths with sponge for precleaning. (one side for sensible surfaces, one for stubborn dirt)
1 bottle Special Bamboo Biocleaner (1:100 concentrate, 250 ml)